Here in Vermont, the mantra "buy local" is everywhere you look. The same way that recycling programs changed our consciousness, buying local is such a part of the culture here, many people are hardwired to think of the shopping resources close by before even considering an online purchase. Funny thing is, Google is doing the same thing with their search results. Whether you are using a mobile devise or sitting comfortably at a desk top, when you log into Google and type in your keyword search, Google is using both the keywords and your location to bring up the most pertinent results. A good example of this would be tracking down a tasty lobster roll. Imagine your self taking that long walk down the beach at sunset with your beau in York, Maine, Vacation Land, the undisputed Lobster Kingdom. As the sand squishes between your toes and the ocean breezes gently toss your hair, your stomach beings to growl. You feel yourself getting a little grumpy. You are having a harder time focusing on things. Hearing the gnashing of your innards, your kindly beau whips out their mobile phone, punches in a search for "lobster rolls."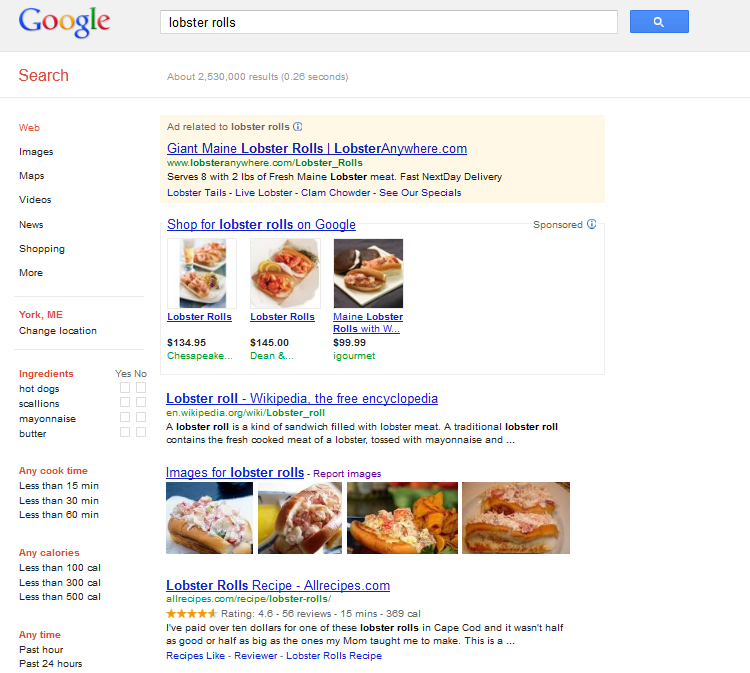 You're a master chef (didn'cha know?) and you don't have time to fuss with making a lobster roll yourself. You need a lobster roll STAT! What to do????? You refine your search OR change the search options on the left side selecting the PLACES filter. BAM! Lookee here! Now we got ourselves a MAP of all the best lobster places in the area.

Great! Mission accomplished! You get your lobster roll, you keep walking down the beach, see the light house.....Life is good. My point here is that you should be doing the same thing with your business. With more searches originating from mobile devices, people who are looking for your goods and services are looking in the immediate are, not for the best lobster roll in the country. Further, if you have a website, that isn't designed to be mobile-friendly, you are going to lose customers and clients but this is an entirely different discussion. Simply put, some business sectors will reap greater immediate rewards than others (restaurants vs. web designers), but there is no reason NOT to stake your claim in the local search market and set yourself up with an easy advantage over your peers. What I'm talking about are local directories: Yellow Pages, Manta, Google +, Yahoo! Local, Yelp, Super Pages, Merchant Circle, Mapquest, Local.com....its a long list of opportunities. Before you jot all these down, take a moment to do a web search on your business name. More than likely, you are already listed in the directory! Here's the results I pulled from the first two Search Engine Results Pages (SERPs) on our business: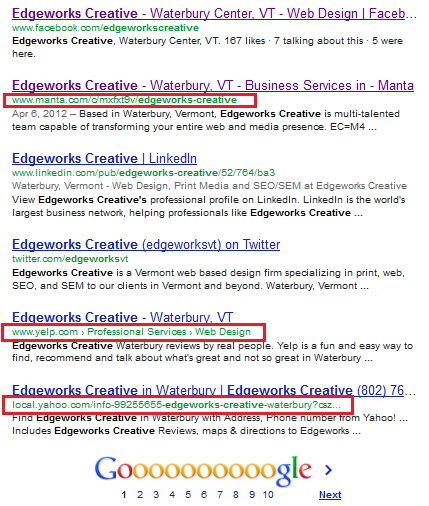 Now, of course we have our Facebook, LinkedIn and twitter accounts listed here. What we're really looking for is the listings on Manta, Yelp and Yahoo! Local. When you search for your business, you may be surprised at how many times your business is listed on the web without you ever lifting a finger.
That's great! Really! What it won't do, however, is show any of the information that makes your company cool or include a URL. That's really why we're here. To feed them more information on your coolness.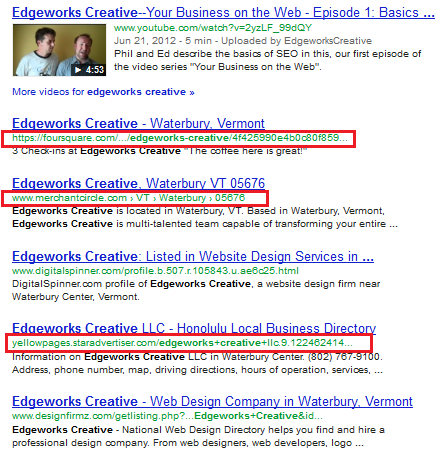 Search Engine Results Page Two for Edgeworks Creative Moving on to the second page, we see results for our awesome video on YouTube AND more opportunities to update listings on directories! There are a few differences to point out here: Four Square is not a directory in the same way Merchant Circle and Yellow Pages are. As I mentioned above, your business will be listed before you arrive. Four Square does not. The other two directories on this page, Digital Spinner and Design Firmz, are directories related to web design. Suffice to say here that in the first few pages, local listing opportunities abound and there are plenty more as you dive deeper into the SERPs. The next step for us is to dig into one of these directories and claim what is rightfully ours!!!!!! Unfortunately, I've already gone through all these ranks with Edgeworks Creative and, rather than take you on a tour of a local directory no one will ever use, I'll walk you through the steps on SuperPages.com. Here's our listing: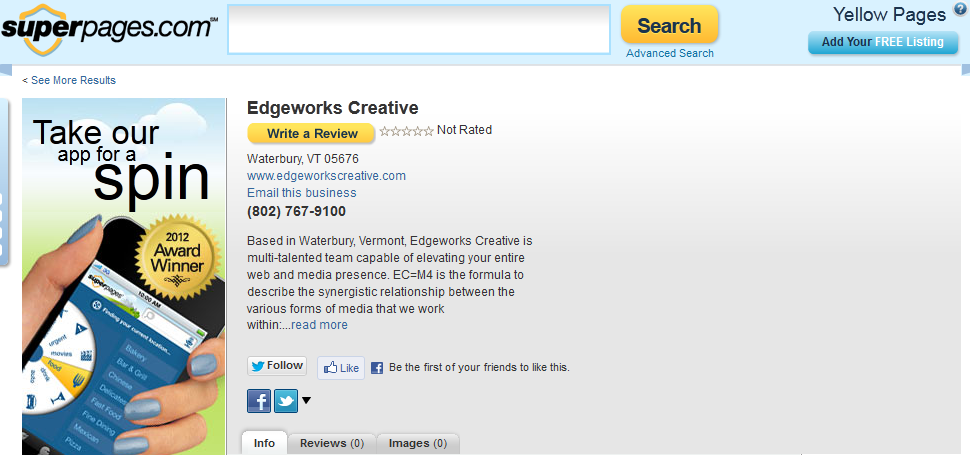 The Superpages Listing For EWC Very exciting things here like our URL, phone number, company description, recommendations, reviews and opportunities to boost the reputation and spread the work on Facebook and twitter. Good Stuff! Scrolling down to the bottom of the page, there's another section where YOU can officially "claim" the listing as your business! It looks a bit like this:

I claim this island in the name of Edgeworks Creative! After you've entered your phone number to identify your business, you'll need to spend a few minutes verifying the address, contact information and your industry. Take a few extra moments to search for other categories related to your business using the Keyword tool in the lower left-hand corner. The more information you provide, more ways potential clients and customers can find you. Moving onto the next page, go ahead and fill out the information relating to your business hours, payment methods, URL and a description of your business. Remember, the more info you provide, the better for two reasons: First, if someone does find you via Super Pages, they have all this info. Second, the inclusion of your web address will help boost the Page Rank of your website! Score! **WARNING*** The following two page will ask you to sign up for one of Super Page's "Click Packages" and a chance to "Enhance Your Listing." Given how much Super Pages wants for this service, you are probably better off spending your marketing dollars elsewhere. This is not to say that the pricing is outrageous or that you will not see a Return on Investment (ROI), but spending $38/month to include you logo or $159/month to guarantee 50 clicks a month? I'm not buying it. Further, 'clicks' do not equal 'conversion.' Take that $200, set up an Adwords marketing campaign and you're much more likely to improve the traffic to your website without getting stuck in a contract. Now that's you've gotten through that first local listing, move on to the next opportunity and repeat. It isn't difficult to run through these local listing directories like a fox in a hen house, pinging one and moving onto the next. And while it will take some time, the end result is worth the effort. As I said above, if they do find you on one of these directories, fabulous! If they don't the inclusion of your web address alone is worth the effort, improving the validity and page rank of your website. Go ahead, try it out and let us know if you have questions!