It's Friday Props! This week we're giving props to one item and one item only, because it's that good. Go ahead and navigate to The DNA Project and tool around for a little bit. Just to start, the site is hands down, no questions asked, strikingly beautiful. Give the intro video a moment to load before diving in, but do take the chance to fully explore this new project by Brooklyn based musician j.viewz.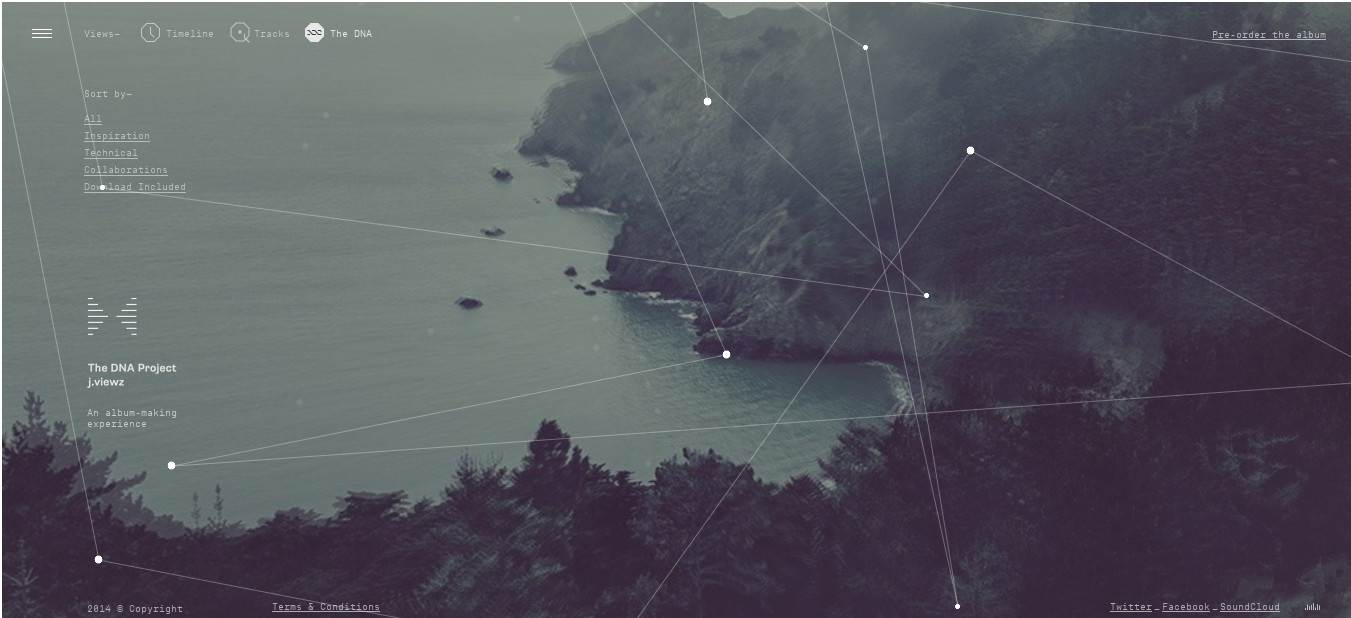 The goal is to share the music creation process, and allow viewers to leave their marks on the work in hopes of enriching the entire experience. Built around that premise, the project breaks down j.viewz's new album into its elements as he finds and creates them. Aiming to release roughly one full song a month, the site is rich with videos, blogs, sound clips, photos and more; but what really makes the project so cool is the interactivity it offers. A huge amount of the content is up for download without restriction, experimentation and sharing, are encouraged, and are promised to play a vital role in the project as it moves forward. For example if you're particularly moved by this recording of "explosive cabbage", download it, mix it, share it, play with it, explore it.
The DNA Project's aim to redefine the way music is created in the digital space is seemingly working. Take a quick scroll through some of the comments and you'll see phrases such as "legitimate voyeurism" being tossed around hand in hand with thoughts on how inspiring or emotionally provoking each piece is.. The project is an amazing conceptual idea, coming into its own in well crafted environment. The DNA Project truly is an outstanding work, and is being propelled forward by the online community that have managed to stumble upon it. We highly recommend you join in and see where it takes you.
The project has picked up and FWA Site of the day award as well as an Awwwards Site of the Day award. The site itself was built by Hello Monday, a digital creative agency based out of Denmark, who have a gorgeous site as well. Well worth checking out if you have the time.
Be sure to send this one around, and perhaps support the artist by pre ordering his next album via the dna project, or by picking up his older work over at bandcamp. Also be sure to send anything props worthy our way via facebook or in the comments below, we'll be sure to share it right back!