Friday Props is back for another week of cool stuff. This week we're keeping things simple; starting off with a project by freelance Designer and Art Director Jack Hughes. "The Colour Clock" displays colors by hex value corresponding to time. The Project operates in the web browser but has also been offered as a desktop screensaver and has a live background for android devices, Check out the project over at thecolourclock.co.uk
Second up in this weeks round of props is an ongoing project by Mike Joyce, graphic designer, and owner of stereotype design in New York City. The project "swissted" is a reimagining of gig posters into a swiss modernist inspired style. A good portion of the designs on from the project are also offered as museum quality prints or cases for iphone 5 and 5s models. Find the online gallery here.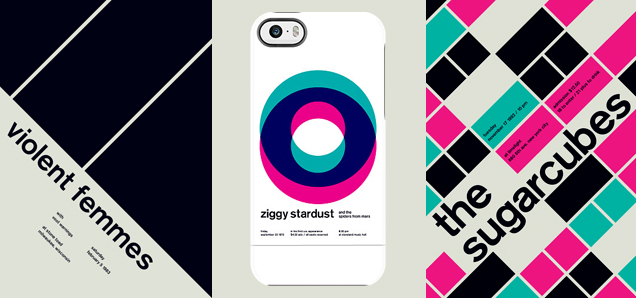 Unsure of what to say about these projects? There's an app for that! Or at least a website to make things easier. Commments.com generates random one line comments based on those found at designer show and tell site dribbble. Comments typically run along the lines of "Truly thought out! You just won the internet!" Simply put, it's nifty. Check it out here.
Our final props this week go to the spotify app Lazify. Click and drag a song, artist, playlist etc. into the app and receive a playlist with up to 8 hours of music. Ease of use, and an extensive library of music to call on make Lazify an ideal tool for music discovery, or keeping your workday tunes from becoming too repetitive. You can launch the app via spotify or head over to lazify.nl
Have you seen anything props worthy? Have an idea for a props theme? Share it with us in the comments or on our Facebook page.