At Edgeworks Creative we design and develop websites. You know this. What you probably don't know is that we create these websites atop a custom made platform - the Edgeworks CMS. The Edgeworks CMS is a powerful website building tool that gives us incredible freedom to treat each and every project as its' own while allowing us to re-use and re-purpose components we've already built. It gives us the ability to create custom websites at affordable prices and it dovetails with our website development process to give our clients pixel-perfect, functional websites in quick order. In this post I aim to show off some of the features of the Edgeworks CMS.
A Look Under the Hood
To really gain an understanding of what makes the Edgeworks CMS such a powerful platform for the rapid development of our client websites we need to take a look under the hood. When a client logs into their website administration they don't see the same things we do. The point of having a website for your business is not to learn how to create and code websites. Unlike Wordpress, Joomla or other platforms where site owners must learn about plugins, modules and the like, the Edgeworks CMS shields site owners from all the difficult pieces and allows them to focus on what matters - the content and information related to their business (not ours). It is, however, these pieces that make the secret sauce and so it's worth a peek.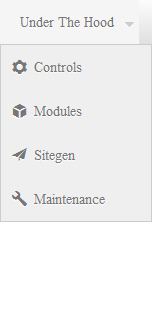 In the menu options we recognize that these parts are exactly "Under The Hood" - they are the engine that creates the website and there are four basic components: 1) Controls - Pages on websites are built from Controls. You can think of Controls as the page templates. When we go through the design phase of a website we identify every Control type the website will need. Some Controls are reusable from website to website while others are custom built for individual clients to closely represent the business objects, methods and requirements as needed. 2) Modules - Modules can be thought of as the data objects for a business as represented on the website. Say, for example, that you sell bicycles. It is likely that you would want a database table to represent bicycles - the makes, models, sizes, colors, price, etc. This bicycle product data would be represented in a Module. 3) Sitegen - Sitegen is a function to generate the pages of the website. If we make a global change to the website then we use the Sitegen feature to re-create the website pages. Sitegen combines the Controls (page template display) and the Modules (data for the pages) to create the actual files visitors to your website see. 4) Maintenance - Just like any engine when we are looking under the hood there are times when we need to make adjustments. We've built in the ability to maintain and update the Edgeworks CMS from within.
Every Business is Unique
Every business is unique. Every website for a business ought therefore also be unique. We're not in the habit of shoehorning our clients into making their business models fit into some website platform. Instead, we're focused on making our platform flexible enough to adjust to the business needs of our clients. Business owners don't need to learn about how to make their business objects (remember the bicycles?) work inside some off-the-shelf product. We make the product reflect the business owners' needs. Examples of how this is represented in the Edgeworks CMS include the administration for client websites for attorneys, bed and breakfasts, realtors and more. Every unique business has their own specific interface to manage the items that pertain to their own needs rather than forcing those business owners to figure out ways of putting square pegs in round holes.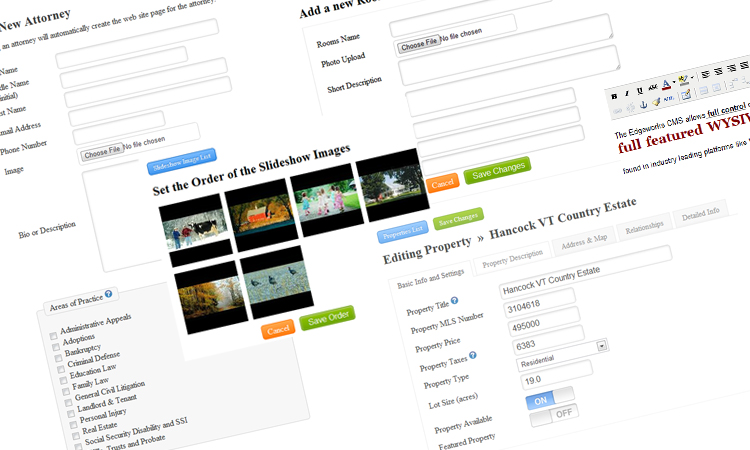 Custom crafting the CMS for every client is a part of our process. We take the time to interview, listen to and understand the goals of our clients. We create the database objects to match the real-world business objects and we set to work building the back end of the clients' installation of the Edgeworks CMS to meet those goals and represent those business realities.
The Front End - What the World Sees
The administrative side of the the website allows us to properly create, store and edit our clients business objects and that's a good thing. But branding, messaging and communication through design is where most people who encounter a website built on the Edgeworks CMS really see things shine. Our robust yet lightweight platform is not tied to a singular expression of design. We purposefully built this platform to adapt to whatever front end site design our clients require . With careful attention to detail, we create pixel-perfect designs as unique as our clients businesses. Cynthia Ryan, our Creative Director, works with our clients to make sure that our design for them reflects the business branding and culture while functioning in a seemless and intuitive manner that makes it easy for website visitors to use. When you couple excellent design with custom administration you end up with a sum greater than its' parts. Our well-oiled machine is ready to take your business down a new road - connect with Edgeworks Creative to see for yourself.