This week we are giving Friday Props to artist Velda Newman for her incredible quilts. Newman has become well-known for the craftsmanship she exhibits with her works that are focused on nature and tend to be larger than life.
Newman blends the skills of painting and stitchwork to create large scale quilts. She begins with color and shape to create the composition then begins the process of assembly. Some of her works are appliquéd quilts (shapes stitched to a background fabric), while many are collage quilts with no backing fabric - the pieces are all stitched to each other. Her fabrics are hand-dyed and she sometimes applies paints as well.
Newman gets her inspiration from nature and her pieces reflect that with compositions that bring flowers, seashells and other natural elements into larger than life detail.
Examples of her work are below (all images courtesy the artist):

ROSES, 2019
Applique, Dye, Paint and Ink
94 inches x 30 feet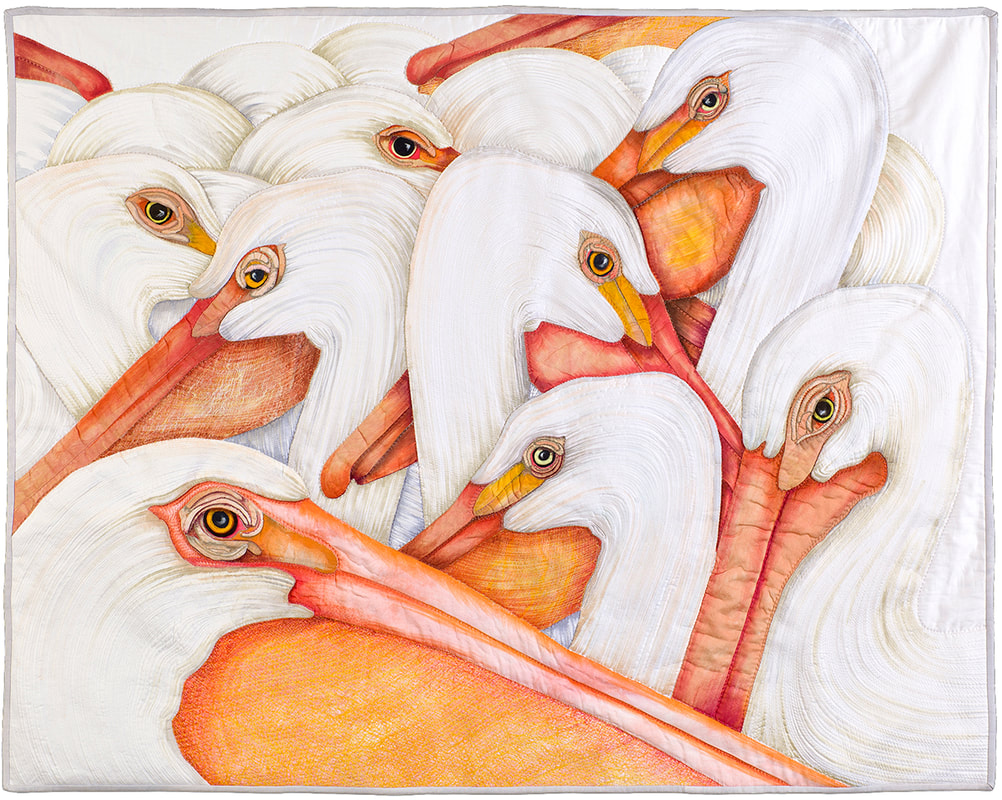 American White Pelicans, 2010
Applique, Dye, Paint and Ink
60" x 60" - Private collection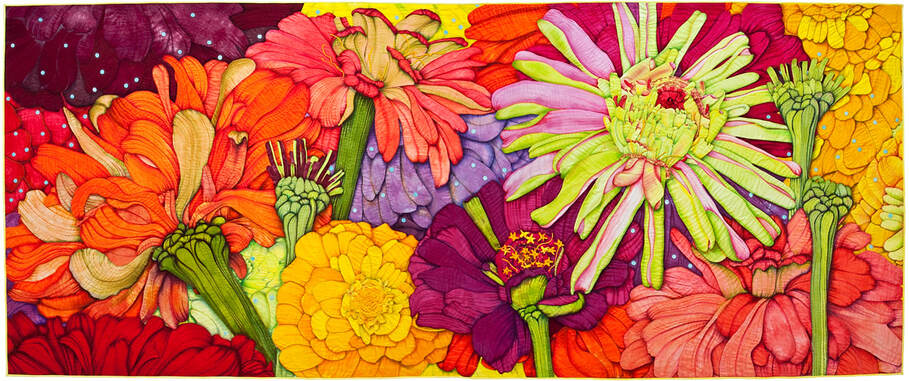 Zinnia, 2010
Applique, Dye, Paint and Ink
88" x 211"
"My approach to quilt design is similar to a painter's: I use color, composition, and scale to capture the spirit of nature, but through the medium of fabric and thread. Many classic works of art depict nature on a scale smaller than real life. A landscape places you in a relatively distant position, and even a still life may portray the subject at less than its actual size. I do just the opposite: I take life and amplify it."
Check out her Portfolio for more examples of her work and to learn more about her workshops and lectures. See also Art of the Quilt's page for Newman here.