Let's be honest here: I'm curious about how much energy and information the government has collected on me over the years during their surveillance. I'm not particularly worried, only curious. Nor am I particularly surprised with the breadth of information they may have beyond my occupational, educational, legal, financial, telephonic or vehicular data. Frankly, I'm not sure what else there could be out there. Are they reading Friday Props? Great! In case you are concerned about what the law enforcement community and social networks are up to, today we give props to some creative ways people are looking to combat the additional surveillance popping up in our everyday lives.
First Props go out to, well, we'll call it 'anti-surveillance fashion.' Whether shopping in a hot bed of drone activity such as Afghanistan or walking down Madison Avenue in NYC, there garments can ward off the prying eyes of the government and Google. Metallic thermal-blocking burqa and scarves can mask your heat signature and meet the rigorous fashion demands of the Taliban. Want to maintain your hipster chic with a hoodie? No problem. Perhaps you are having a bad hair day and you would prefer the facial recognition software of Google Glass NOT to recognize you? Scientists in Japan have developed the anti-Glass using LED lights that block IR cameras! These fashion accessories are still a bit clunky, but, without a doubt, Banana Republic and others will soon come out with much more sleek and sexy choices for your anti-surveillance needs.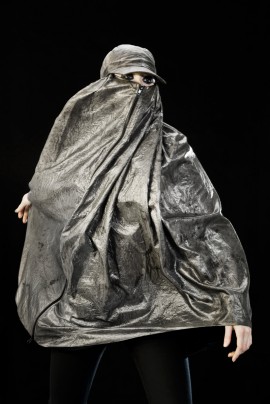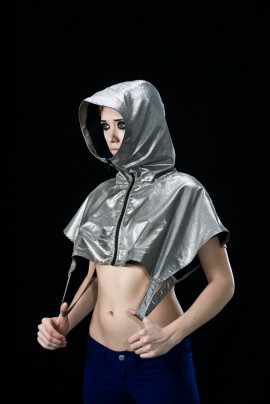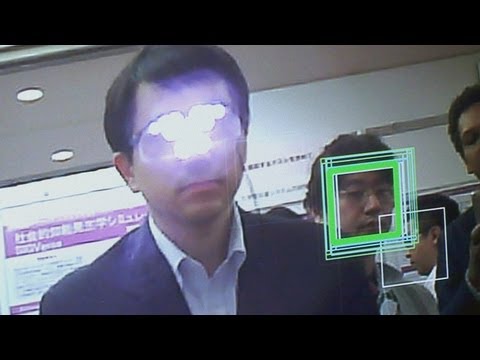 Of course, there are many of us who live out in areas of low-population density. We have some of the same problems, but sometimes come up with more simple, effective solutions. And, heck, they can be a lot more fun, too. We all have a love-hate relationship with electronics and in Deer Trail, CO, these folks are issuing hunting licenses for surveillance drones!
The Town of Deer Trail shall issue a reward of $100 to any shooter who presents a valid hunting license and the following identifiable parts of an unmanned aerial vehicle whose markings and configuration are consistent with those used on any similar craft known to be owned or operated by the United States federal government.
It doesn't look as though privately-owned drones are the target, but I suspect this will be a 'shoot first, ask questions later' kinda deal. The town has not put up the new ordinance (or anything else) on their website since 2011. We'll keep looking.
Finally, we give props to The List; All of the words that the NSA and other powers that surveil people, throwing up red flags for further scrutiny. Many of them are acronyms that you will know and recognize. More interesting are the other, seemingly innocuous, words that people use in every day correspondence. I cannot vouch for the legitimacy of The List (from 1998), but I pulled it from an article on Business Insider and written by a young fellow, Dylan Love, that I know. Dylan is a smart man who would certainly check his references more thoroughly than I.
Waihopai, INFOSEC, Information Security, Information Warfare, IW, IS, Priavacy, Information Terrorism, Terrorism Defensive Information, Defense Information Warfare, Offensive Information, Offensive Information Warfare, National Information Infrastructure, InfoSec, Reno, Compsec, Computer Terrorism, Firewalls, Secure Internet Connections, ISS, Passwords, DefCon V, Hackers, Encryption, Espionage, USDOJ, NSA, CIA, S/Key, SSL, FBI, Secert Service, USSS, Defcon, Military, White House, Undercover, NCCS, Mayfly, PGP, PEM, RSA, Perl-RSA, MSNBC, bet, AOL, AOL TOS, CIS, CBOT, AIMSX, STARLAN, 3B2, BITNET, COSMOS, DATTA, E911, FCIC, HTCIA, IACIS, UT/RUS, JANET, JICC, ReMOB, LEETAC, UTU, VNET, BRLO, BZ, CANSLO, CBNRC, CIDA, JAVA, Active X, Compsec 97, LLC, DERA, Mavricks, Meta-hackers, ^?, Steve Case, Tools, Telex, Military Intelligence, Scully, Flame, Infowar, Bubba, Freeh, Archives, Sundevil, jack, Investigation, ISACA, NCSA, spook words, Verisign, Secure, ASIO, Lebed, ICE, NRO, Lexis-Nexis, NSCT, SCIF, FLiR, Lacrosse, Flashbangs, HRT, DIA, USCOI, CID, BOP, FINCEN, FLETC, NIJ, ACC, AFSPC, BMDO, NAVWAN, NRL, RL, NAVWCWPNS, NSWC, USAFA, AHPCRC, ARPA, LABLINK, USACIL, USCG, NRC, ~, CDC, DOE, FMS, HPCC, NTIS, SEL, USCODE, CISE, SIRC, CIM, ISN, DJC, SGC, UNCPCJ, CFC, DREO, CDA, DRA, SHAPE, SACLANT, BECCA, DCJFTF, HALO, HAHO, FKS, 868, GCHQ, DITSA, SORT, AMEMB, NSG, HIC, EDI, SAS, SBS, UDT, GOE, DOE, GEO, Masuda, Forte, AT, GIGN, Exon Shell, CQB, CONUS, CTU, RCMP, GRU, SASR, GSG-9, 22nd SAS, GEOS, EADA, BBE, STEP, Echelon, Dictionary, MD2, MD4, MDA, MYK, 747,777, 767, MI5, 737, MI6, 757, Kh-11, Shayet-13, SADMS, Spetznaz, Recce, 707, CIO, NOCS, Halcon, Duress, RAID, Psyops, grom, D-11, SERT, VIP, ARC, S.E.T. Team, MP5k, DREC, DEVGRP, DF, DSD, FDM, GRU, LRTS, SIGDEV, NACSI, PSAC, PTT, RFI, SIGDASYS, TDM. SUKLO, SUSLO, TELINT, TEXTA. ELF, LF, MF, VHF, UHF, SHF, SASP, WANK, Colonel, domestic disruption, smuggle, 15kg, nitrate, Pretoria, M-14, enigma, Bletchley Park, Clandestine, nkvd, argus, afsatcom, CQB, NVD, Counter Terrorism Security, Rapid Reaction, Corporate Security, Police, sniper, PPS, ASIS, ASLET, TSCM, Security Consulting, High Security, Security Evaluation, Electronic Surveillance, MI-17, Counterterrorism, spies, eavesdropping, debugging, interception, COCOT, rhost, rhosts, SETA, Amherst, Broadside, Capricorn, Gamma, Gorizont, Guppy, Ionosphere, Mole, Keyhole, Kilderkin, Artichoke, Badger, Cornflower, Daisy, Egret, Iris, Hollyhock, Jasmine, Juile, Vinnell, B.D.M.,Sphinx, Stephanie, Reflection, Spoke, Talent, Trump, FX, FXR, IMF, POCSAG, Covert Video, Intiso, r00t, lock picking, Beyond Hope, csystems, passwd, 2600 Magazine, Competitor, EO, Chan, Alouette,executive, Event Security, Mace, Cap-Stun, stakeout, ninja, ASIS, ISA, EOD, Oscor, Merlin, NTT, SL-1, Rolm, TIE, Tie-fighter, PBX, SLI, NTT, MSCJ, MIT, 69, RIT, Time, MSEE, Cable & Wireless, CSE, Embassy, ETA, Porno, Fax, finks, Fax encryption, white noise, pink noise, CRA, M.P.R.I., top secret, Mossberg, 50BMG, Macintosh Security, Macintosh Internet Security, Macintosh Firewalls, Unix Security, VIP Protection, SIG, sweep, Medco, TRD, TDR, sweeping, TELINT, Audiotel, Harvard, 1080H, SWS, Asset, Satellite imagery, force, Cypherpunks, Coderpunks, TRW, remailers, replay, redheads, RX-7, explicit, FLAME, Pornstars, AVN, Playboy, Anonymous, Sex, chaining, codes, Nuclear, 20, subversives, SLIP, toad, fish, data havens, unix, c, a, b, d, the, Elvis, quiche, DES, 1*, NATIA, NATOA, sneakers, counterintelligence, industrial espionage, PI, TSCI, industrial intelligence, H.N.P., Juiliett Class Submarine, Locks, loch, Ingram Mac-10, sigvoice, ssa, E.O.D., SEMTEX, penrep, racal, OTP, OSS, Blowpipe, CCS, GSA, Kilo Class, squib, primacord, RSP, Becker, Nerd, fangs, Austin, Comirex, GPMG, Speakeasy, humint, GEODSS, SORO, M5, ANC, zone, SBI, DSS, S.A.I.C., Minox, Keyhole, SAR, Rand Corporation, Wackenhutt, EO, Wackendude, mol, Hillal, GGL, CTU, botux, Virii, CCC, Blacklisted 411, Internet Underground, XS4ALL, Retinal Fetish, Fetish, Yobie, CTP, CATO, Phon-e, Chicago Posse, l0ck, spook keywords, PLA, TDYC, W3, CUD, CdC, Weekly World News, Zen, World Domination, Dead, GRU, M72750, Salsa, 7, Blowfish, Gorelick, Glock, Ft. Meade, press-release, Indigo, wire transfer, e-cash, Bubba the Love Sponge, Digicash, zip, SWAT, Ortega, PPP, crypto-anarchy, AT&T, SGI, SUN, MCI, Blacknet, Middleman, KLM, Blackbird, plutonium, Texas, jihad, SDI, Uzi, Fort Meade, supercomputer, bullion, 3, Blackmednet, Propaganda, ABC, Satellite phones, Planet-1, cryptanalysis, nuclear, FBI, Panama, fissionable, Sears Tower, NORAD, Delta Force, SEAL, virtual, Dolch, secure shell, screws, Black-Ops, Area51, SABC, basement, data-haven, black-bag, TEMPSET, Goodwin, rebels, ID, MD5, IDEA, garbage, market, beef, Stego, unclassified, utopia, orthodox, Alica, SHA, Global, gorilla, Bob, Pseudonyms, MITM, Gray Data, VLSI, mega, Leitrim, Yakima, Sugar Grove, Cowboy, Gist, 8182, Gatt, Platform, 1911, Geraldton, UKUSA, veggie, 3848, Morwenstow, Consul, Oratory, Pine Gap, Menwith, Mantis, DSD, BVD, 1984, Flintlock, cybercash, government, hate, speedbump, illuminati, president, freedom, cocaine, $, Roswell, ESN, COS, E.T., credit card, b9, fraud, assasinate, virus, anarchy, rogue, mailbomb, 888, Chelsea, 1997, Whitewater, MOD, York, plutonium, William Gates, clone, BATF, SGDN, Nike, Atlas, Delta, TWA, Kiwi, PGP 2.6.2., PGP 5.0i, PGP 5.1, siliconpimp, Lynch, 414, Face, Pixar, IRIDF, eternity server, Skytel, Yukon, Templeton, LUK, Cohiba, Soros, Standford, niche, 51, H&K, USP, ^, sardine, bank, EUB, USP, PCS, NRO, Red Cell, Glock 26, snuffle, Patel, package, ISI, INR, INS, IRS, GRU, RUOP, GSS, NSP, SRI, Ronco, Armani, BOSS, Chobetsu, FBIS, BND, SISDE, FSB, BfV, IB, froglegs, JITEM, SADF, advise, TUSA, HoHoCon, SISMI, FIS, MSW, Spyderco, UOP, SSCI, NIMA, MOIS, SVR, SIN, advisors, SAP, OAU, PFS, Aladdin, chameleon man, Hutsul, CESID, Bess, rail gun, Peering, 17, 312, NB, CBM, CTP, Sardine, SBIRS, SGDN, ADIU, DEADBEEF, IDP, IDF, Halibut, SONANGOL, Flu, &, Loin, PGP 5.53, EG&G, AIEWS, AMW, WORM, MP5K-SD, 1071, WINGS, cdi, DynCorp, UXO, Ti, THAAD, package, chosen, PRIME, SURVIAC