Welcome back for this week's installment of Friday Props, the only props you'll ever need! Here in Vermont we are beginning to feel the chill in the air as fall muscles its way across the green mountains. In many ways, this changing of the seasons is a welcome change and brings with it the familiar sights, smells, sounds, tastes and opportunities for creativity. No, we won't feature foliage shots or the latest pumpkin-based beer, but a few things that signal the coming of fall for us. The World's Largest QR Code I'm not one to hem and haw about an inclusion into the Guinness Book of World Records. That institution is so out of whack and overblown I'm surprised that my cat doesn't have a world record for SOMETHING. On the other hand, it does inspire creativity in a myriad of forms. Combining the digital and natural worlds makes my heart melt all the more! Therefore, the first Friday Prop goes to the Kraay family of Lacombe, Alberta, Canada for their corn-formed QR code.The code covers 7 of the 15 acres designed by the family and, if you can hold your smart phone up high enough, the code will bring up the website for the farm. It won't, however, get you out of the maze. Or Alberta.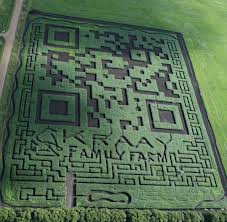 Pumpkin Chuckin' Next, I want to give props to the folks up at Boyden Family Farm who will be hosting their Pumpkin Chuckin' party again this year. On Sunday, October 7, the farm will host a variety of trebuchets, weapons from the medieval times designed to lay waste to those folks who thought that hunkering down in a castle made them safe. On a crisp autumn day under blue-bird skies, there's nothing quite like watching pumpkins hurled through the air and smashing hundreds of feet later.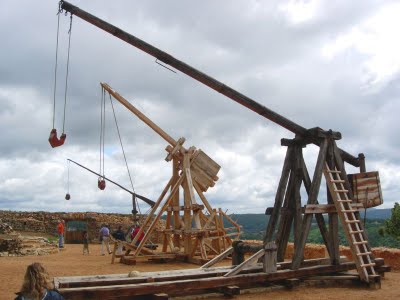 Tunbridge World's Fair And finally, Friday Props turns to a tradition dating back 145 years: The Tunbridge World's Fair. Yes, its small. No, Def Leppard will not be playing on Saturday night. Probably you'll eat too much and find yourself with arms full of cheap stuffed animals and inflated plastics that you wish you HADN'T won. But its Tunbridge and you'll see some spectacular pig racing, awe-inspiring ox pulls and beautiful livestock and domestic fowl. And the smell? The air is ripe with the smells of a farm, sizzling sausages and fear. Yep. Fear. I get too dizzy to ride the rides anymore and the sight of them gets me close to fainting. If you get a whiff of the fear in the air, you'll know I'm nearby. Go this weekend, have a beer under the pavilion and pet a cow. Gosh, I love the Fair!